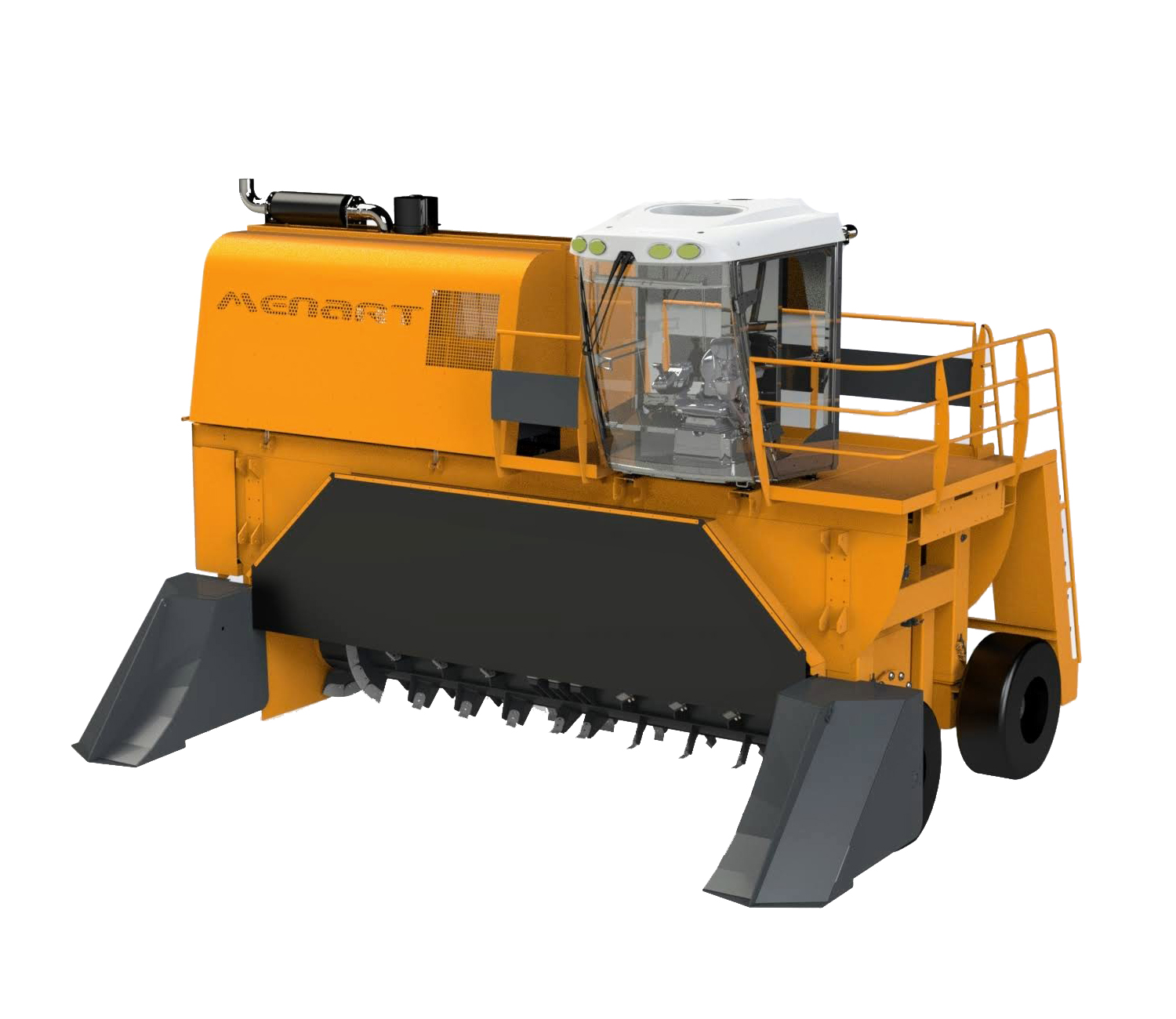 Excellent aeration quality

MENART turners have been specially designed to optimize the aeration and mixing process: larger trapezoidal tunnel, powerful rotor drum, no compacting effect, left-right crossing flow.

High productivity

The SPM turners are equipped with powerful track clearers to improve traction grip. And thanks to their large tunnel, they can process huge windrows at a high speed.

All-terrain machines

Saving space

Thanks to the track clearers, windrows can be brought closer on the site, therefore gaining space. In addition, MENART turners are big but compact and they can spin around at the end of the windrow. Composting plant area is optimized.

Maximum driver comfort

The cabins are the most modern with all-around visibility and pressurized air conditioning. Joystick controls are « at hand » for easy use. A fun and intuitive touch screen allows the operator to have all the machine information at a glance. The engine compartments are soundproofed.

Operators safety

MENART turners are easy and safe to maintain thanks to a large and secure platform. The tunnel is equipped with protection against projectiles: in the front a rubber curtain and at the rear an adjustable metallic deflector.
Technical characteristics:
 
 
SPM-36
SPM-47
SPM-58
SPM-63
SPM-73
Engine Power
kW / hp
110 / 147
225 / 302 (St. V)
205 / 275 (Tier3)
225 / 302 (St. V)
205 / 275 (Tier3)
280 / 375
470 / 630
Max windrow width
m
(ft)
3,9
(11'9'')
4,9
(15'5'')

5,9
(19')
6,3
(20'8'')
7,3
(23'11'')
Tunnel height
m
(ft)
1,7
(5'6'')
1,9
(6'2'')
2,1
(6'10'')
2,4
(7'10'')
2,8
(9'2'')
Max windrow height -tunnel raised
m
(ft)
2,1
(6'10'')
2,4
(7'10'')
2,6
(8'2'')
2,9
(9'6'')
3,3
(10'9'')
Indicative productivity
m³/h
(yd³/h)
2000
(2600)
3000
(4000)
4000
(5000)
5300
(7000)
7000
(9000)