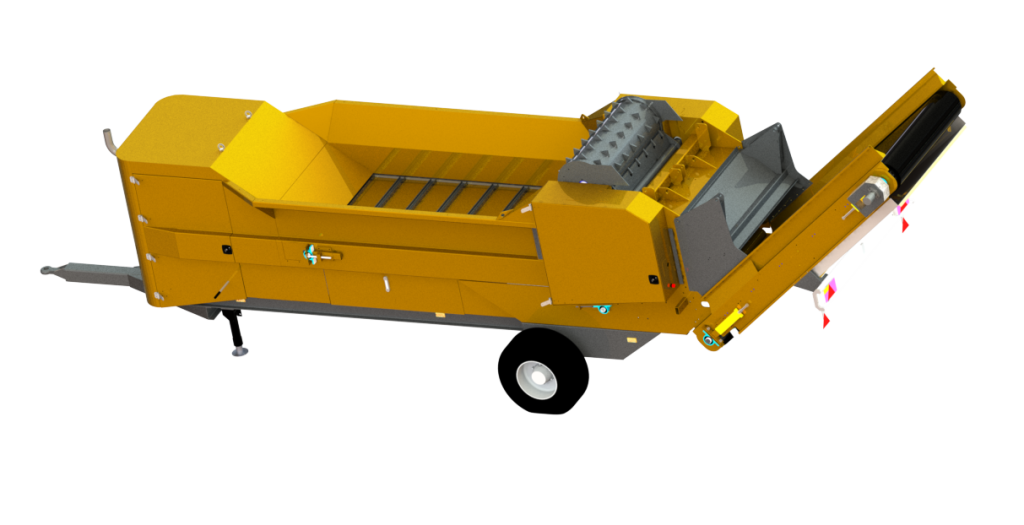 High working capacity

The solid and massive rotor has a high inertia, essential to obtain a good quality shredded material in large quantities. The feed hopper is designed to be loaded by loaders, tractors, cranes, etc.

Robuste et facile à utiliser

MENART swinging-hammer shredders can shred any mix of green waste (grass, leaves, branches, wood, etc.), pallets, construction wood, food scrap, bio-waste, manure, etc. without excessive wear compared to chippers.

Versatile use

The speed of the moving floor is synchronized with the rotation speed of the compacting roll. Slow speed, fine output. High speed, coarse output. The user adjusts the speed according to his needs.

Output quality

The shredders are protected by several security systems: a no-stress system, automatic system for optimum feeding depending on the workload. Engine and rotor transmissions are protected against shocks and overloading, which also reduces maintenance and repair requirements.

Mechanical reliability and robustness

Shredders transmissions are protected by a no-stress feed system that makes the material returns automatically if the workload on the rotor is too high. Shock and overload protection reduces the need for maintenance and repairs.

Mobility and all terrain machines

On roads, on site or in fields, MENART shredders are easily transported.
Technical characteristics:
 
 
B-102
B-121
 
 
Power in Diesel version
hp
51
147
Power in Electric version
kW
37
75
Indicative power in tractor version
ch
(PTO rpm)
70
(540)
120
(1000)
Max branches diameter
cm (in)
8 (3'')
15 (6'')
Max capacity
m³/h (yd³/h)
30 (40)
50 (65)